ichiran
Ahh Ichiran, a tourist hotspot ramen chain designed for maximal efficiency and as little human interaction as possible. Imagine a humming dinner party among stellar company with a seating arrangement that could not have been more perfectly arranged. Candlelight illuminates the attractive guests' faces. Wine, along with conversation, is overflowing and when the evening draws to a close the guest still want to linger. Now imagine the opposite and you have Ichiran. Ichiran hails from Fukuoka and dates all the way back to the 1960's. In traditional Hakata style, the ramen noodles are straight and thin. Ichiran serves only tonkotsu ramen, another nod to their Hakata roots. Despite having 14 locations in Tokyo and staying open until 6AM everyday, there was still quite a line snaking out the door and spilling onto the sidewalk when I arrived at their Shinjuku Station location.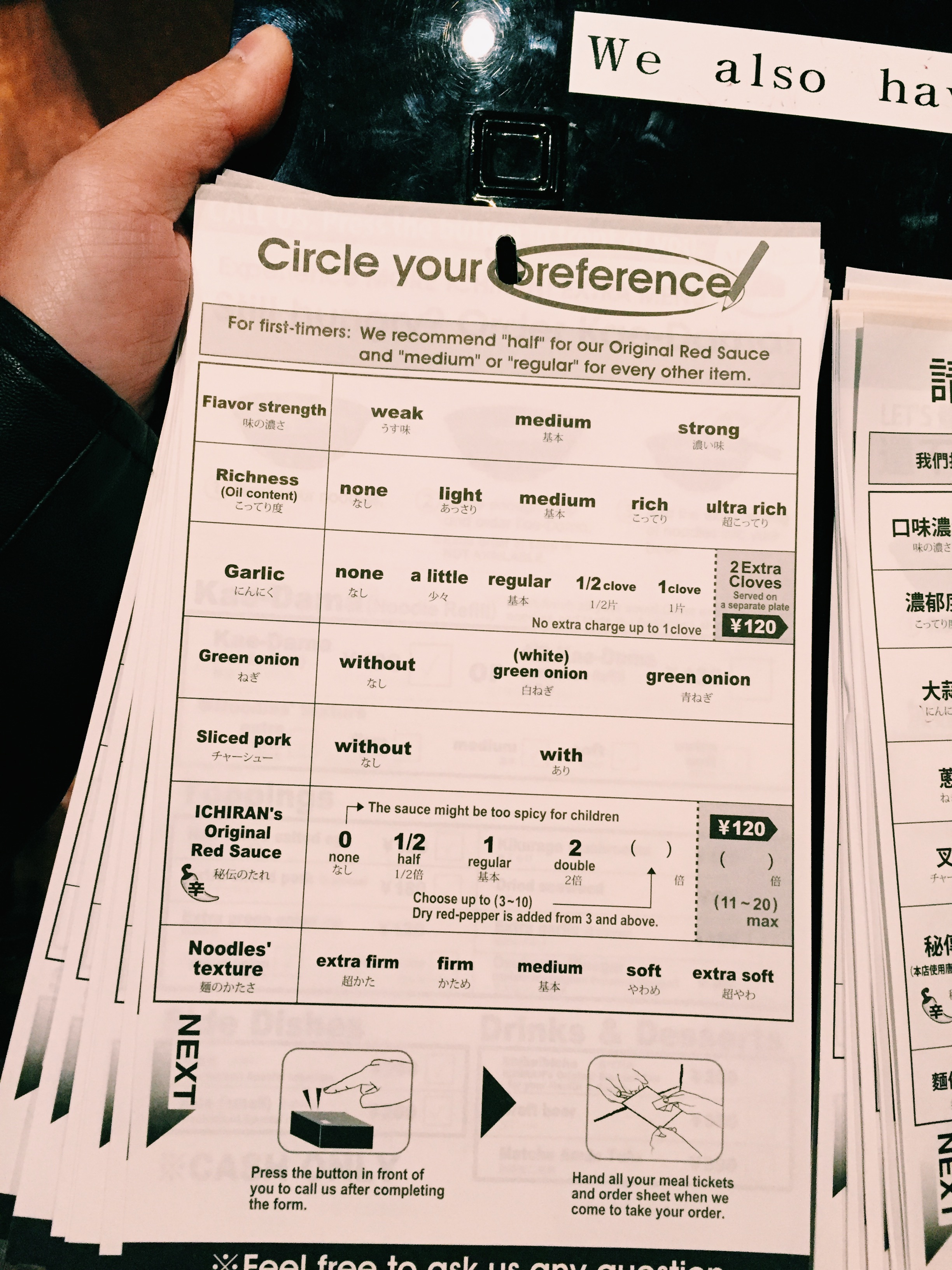 Like many Japanese restaurants, Ichiran has a vending machine where can input your order after depositing your Yen. It returns tickets that indicate to the staff which items you have selected. After some point in line you are handed a form to indicate your preferences regarding your ramen, making optimal use of your wait, and further diminishing your need for human interaction. At a later point in the queue, the form is collected so that the mysterious chefs (whom you never see, save for their hands) can begin assembling your bowl of tonkotsu ramen to have ready to serve not long after you are seated.
As you approach the front of the line, the greeter simultaneously manipulates what looks like a switchboard to guide you to the correct seat. Oh, you came with a group? Well your hopes of being able to look each other in the eye while maybe enjoying a lively conversation have been dashed! Enjoy playing telephone... if your neighbor decides to oh-so-kindly collapse between the wooden divider between the two of you, that is. If not, at least you'll be able to shamelessly take a million Snapchats of your ramen, or whatever.
Ok, so now the novelty of sitting in a narrow booth looking at a bamboo curtain is starting to wear off, claustrophobia starts to set in, and you're thinking when's the food coming out? It's precisely this moment when the curtain rolls up followed by a set of hands that emerge to set your food down in front of you with as much courtesy a set of floating Japanese hands can convey. Then as if that weren't enough, the hands return to their owner's side and your faceless server bows before unfurling the bamboo curtain down again leaving you to dine in the solitary confines of your wooden booth.
Commentary on the individualized dining experience aside, this was a good bowl of tonkotsu ramen. It appears after being around since the 60's, Ichiran has not only perfected their signature recipe but also their operational execution to hairsplitting precision. And this was indeed later confirmed, as I brought back their Ichiran ramen set to San Francisco and my very amateur attempt tasted very similar to this one. Well, it is Japan what did I expect?
If there's one metaphor for Japan as a nation, I'd argue the vending machines are the ultimate symbol. It's the automation of a process so deeply human, conditioning a society to devalue the interactions between people. Lost are the opportunities to connect when dining is regarded as one might regard completing chores, as something that just needs to be done, and quickly. What's left is an existence as narrow as the booths at Ichiran. Alright, I'm done waxing poetic over ramen (loljokes, will I EVER be?!). If you ever find yourself in Japan, go to Ichiran because it is worth the wait for the experience alone.