THE ramen burger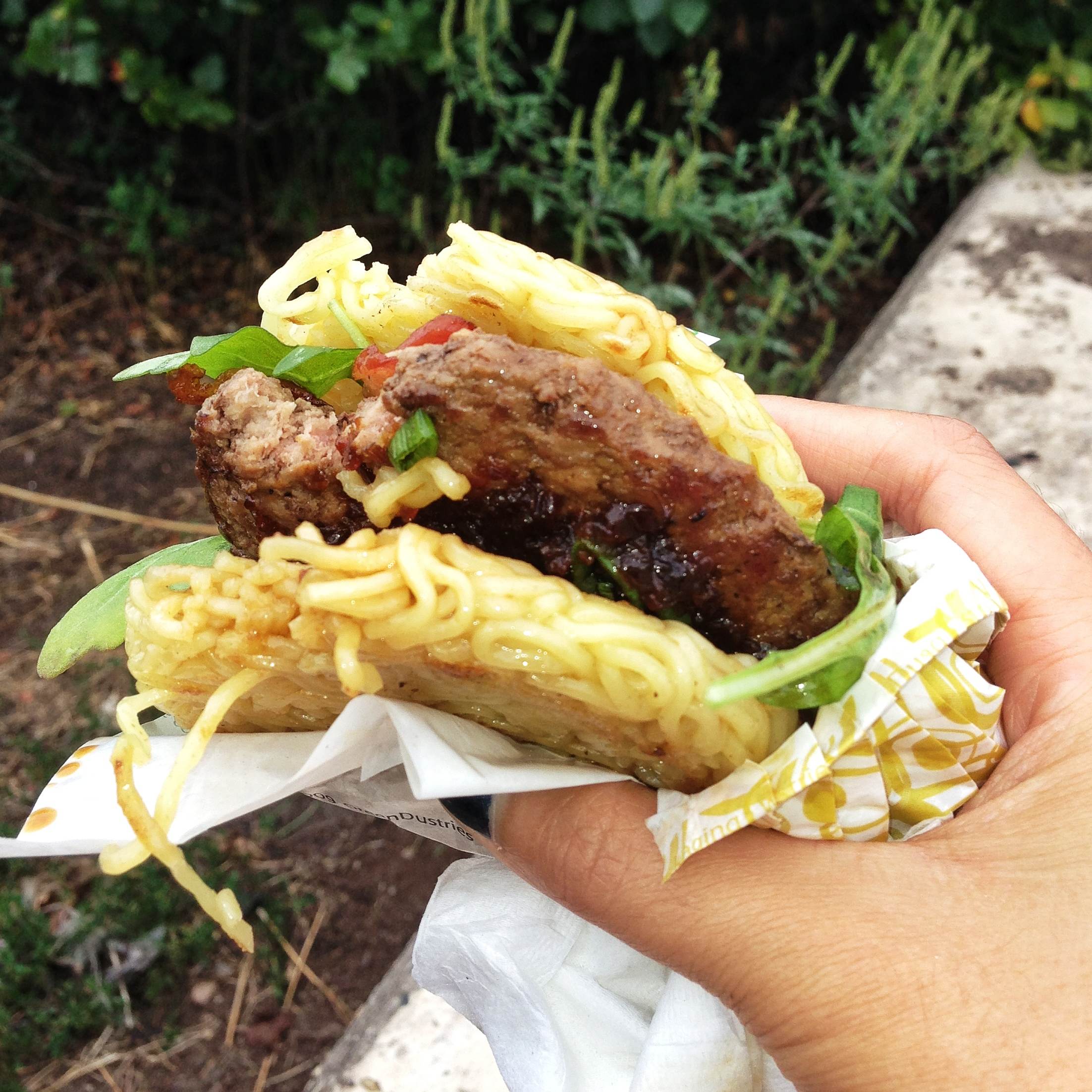 What perfect subject matter to feature in my inaugural post! Now if you haven't heard of the ramen burger... let me educate you, you poor lost soul. The latest in New York City food crazes (Cronut? What's that?), the ramen burger is a Keizo Shimamoto creation (whose own ramen blog you can find here) that made its debut on August 3rd at Smorgasburg in Brooklyn. And last weekend, yours truly had the immense pleasure of tasting one for the first time!
I was so. freaking. excited I woke up at 7am to line up for it. A solid line began to form by 8:45am. Well before 11am, the ramen burger tent was all abuzz with various film crews and journalists vying for facetime with Shimamoto as well as grilling customers on why the hell they would wake up at such ungodly hours for a slab of meat jammed between two blocks of noodles. Sidenote: I was interviewed by an alleged German journalist who writes for Die Welt (The World) and I've been trolling the website for the article ever since. I'll share the article as soon as I find it, stay tuned...
My thoughts? Well, the ramen burger was... exactly what it sounded like - but much more delicious than I had imagined. Instead of wheat buns as you'd find on any normal burger, two circular ramen noodle 'buns' are what surround a medium-rare beef patty. While the meat is typically the focus in other burgers, it was everything else besides the beef that stole the show with this one. First, the fried ramen buns had all that yellow, springy salted-goodness to it that took me back to a time from my youth where I ate crushed up instant noodles straight out of the bag (c'mon, you know what I'm talking about). Second, the generous little mountain of scallions atop the patty provided that kick of onion-y zest that completes any ramen palate. Aside: arugula also makes an appearance in the ramen burger but it's suuuch an afterthought. Third, since I managed to be one of the first 50 people in line that day, I got bacon in my ramen burger. BACON. Fourth, the sauce. Ohhh my god. The sauce. It was a "secret" shoyu-based sauce that was plopped onto my burger via something akin to a tiny ice cream scoop. Now here is where I see the genius that is the ramen burger - since the ramen buns are porous, as soon as that top bun is set onto the little mound of  secret sauce, the sauce-globs squish themselves into any available air pocket creating sauce-glob-air-pockets. Sauce-pockets™. Absolutely worth the $9 and the 3 hour wait. Grab extra napkins!
Update for all my west coasters: the ramen burger is now available in SoCal. Hopefully it makes its way up to northern California soon!